C-Profile
C-Profile is a program to calculate protein's physicochemical properties from its FASTA sequence. This data is useful in optimizing conditions for crystallization. The output will be helpful and suggestive for the optimization of the crystallization condition from the aspect of ionic composition of each solution.
Version and requirements
Details: Version 1.0; File name C-Profile.xlsm
System requirements: Windows 7 (Microsoft Excel 2010 / 2013)
Features
Enter amino acid sequence in FASTA format into the form field.
Another amino acid sequence such as peptide ligand can be entered continuously.
The Vm value for the calculation of charge density can be the most probable value (calculated by C-profile) or fixed value.
The number of Cystine (S-S bond) can be set.
A selected pH can be set for the calculation of the electric charge and charge density.
Conversion between absorbance at 280nm, weight concentration (mg/ml), and molarity (mM) are calculated muturaly.
You can add a title for the calculation results.
You can save the result in a named Excel file with no macro. (But the amino acid sequence is not recorded in this file.)
You can reload the saved Excel file to C-Profile. Then you can conduct all the command above.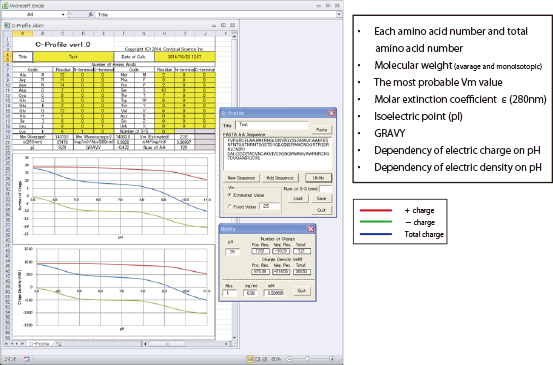 Effective usage
If some of the amino acids are replaced, you can estimate the change of physicochemical parameters easily.
According to the experimentally-obtained absorbance, you can calculate the weight concentration (mg/ml) easily.
You can estimate the electric charge and electric density of the protein molecule at a selected pH.
The estimation result will be useful for e. g. the optimization of the solutions for ion-exchange chromatography and protein crystallization.

Price
| | | | | |
| --- | --- | --- | --- | --- |
| Catalogue ID | Product name | Qty/pack | Content | Price (w/o tax) |
| MB2004-CRT700  | C-Profile | 1 set | CD, instruction booklet | 10,000 JPY |
Restriction
The validity of C-Profile expires one year after the activation.
C-Profile can only be used and be copied in PC of the purchaser. The copy takes over the expiration data from the original one.
C-Profile is available for the estimation of the physicochemical property of the protein molecule only for academic use on your own responsibility.
Our company assumes no responsibility for the results of C-Profile.
Neither alteration of the program nor decryption of the source code is allowed.
Transfer of C-Profile to a third party is prohibited.
The program of C-Profile may be improved and/or the price of C-Profile may be changed without any notice.